My sister make
the best
chocolate chip cookies. I know every body thinks they have found the best ones, or they're still looking. But, these are seriously the best.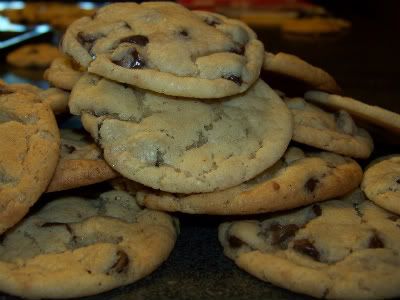 The only thing you have to decide is, do you like yours krispy or gooey?
Slightly adapted from 'Betty Crocker's Best of Baking'
1\2 cup granulated sugar
1\2 cup packed brown sugar
1\3 cup butter, softened
1\3 cup shortening
1 egg
1 teaspoon vanilla
1 1\2 heaping cups all-purpose-flour
1\2 teaspoon baking soda
1\2 teaspoon salt
6 ounces chocolate chips
Heat oven to 375 degrees. Mix sugars, margarine, shortening, egg and vanilla. Stir in remaining ingredients. Drop dough by rounded teaspoonfuls about 2 inches apart onto ungreased cookie sheet. Bake for 4 minutes turn and bake for f4 more minutes (we like ours gooey.) Cool slightly before removing from cookie sheet. Cool on flat clean surface.
Now if you'll excuse me I'm in need of some icy cold fresh milk. :D